It has been more than three months since I last wrote. This whole time, I thought my first travel blog entry would, naturally, be about my very first day of my first solo travel in 2011. In fact, the end of October, I went through some old photos and selected about ten, taken in Amsterdam, to include in the blog entry but with a full-time job plus a part-time job that consumes most if not all of my weekends, I hadn't had the time to write. I knew I was going to have a few days off around Christmas so I thought I'd write then. Fast forwarding to early December. I was chatting over Whatsapp with a friend I met in Morocco two and a half years ago and I was rambling on about this delicious avocado melon smoothie that was probably called 'Oh my god I want another one' in Darija only to find out he had absolutely no recollection whatsoever of that heavenly concoction. Gasp. How could anyone not remember such healthy blend of avocado and melon, and possibly milk, with slices of apple and banana strategically scattered inside the smoothie, plus peanut butter smeared on the side of the glass, topped with whipped cream and more fruit. A smoothie thick enough to eat with a spoon. A smoothie one could simply not forget. A smoothie one could spend 100 words describing. Ok it's becoming clear that the problem is me. Chill, Donna. It, was, a smoothie. However obsessive this smoothie story sounds, the telling of it did start a nostalgic reminiscing of my time in Chefchaouen, Morocco, for myself and for the friend. Flashbacks of bits and pieces of my day and a half in Chefchaouen, or Chaouen, came flying back, leaving me at full Take Me Back mode.
My two weeks in Morocco in May 2015 was one of the most memorable travels I have had. Although I started travelling late in life, by this trip, I have already spent around 10 months over four years in 25 countries. Sounds impressive but it ain't. *insert half-embarrassed smiley* Some 'countries' I visited were just one or two cities. *insert half-embarrassed smiley again* I'd fallen in love with Iceland (yes, the whole bloody country), Lisbon and Copenhagen. I re-enforced my obsession with Switzerland. I learnt to tolerate, like, love and miss Italy in a little over three months. I wished I could live in Florence or Vienna. I look forward to going to New York again. I can't wait to explore Istanbul again. I want to go to Brasov (despite my many effort, I was unable to add a little cedilla under the s) again in the summer, Zurich again in the winter. Stockholm, Dublin, Munich, Edinburgh, Catania, Berlin, Budapest....so many places I enjoyed, so many places I loved, but never had I ever felt what I did toward Morocco. There was something really special about this trip that touched my soul. I felt this strong and indescribable connection to this archaic, seemingly backward country. Everyone I met, the warm and welcoming locals (except for the catcallers, hustlers, the guy who yelled 'do you want some husbands?' and the dude who told me 'we have magic carpets!'), the fun and amazing travellers, the awe and self-reflection inspiring, majestic landscapes of the country, the mouthwatering local cuisines, the random sights of cats, everything made this time so wonderful that my heart felt full.
Shortly after noon on May 22nd, 2015, I arrived at the Chefchaouen bus station from Fes. I picked up my backpack - with a sigh of relief because ever since my backpack was stolen off a bus somewhere between Cadiz and Algeciras in Spain six months ago, I always had a bit of fear when my backpack was out of my sight - and went to find my hostel. It took a while, a few detours inside the medina and a couple of locals pointing me to the right direction, but I eventually found my home for the next couple of days. I settled in in my narrow rectangular blue and pink room, and went to the common area where I was greeted by M, a dance instructor from Turkey, and he offered me watermelon. Not a bite or two. An entire plate. With two giant slices still sitting on the rind, but sliced off the rind and cut into bite sized pieces, with a knife and fork on the plate, all for me! A total stranger! What a sweet and thoughtful gesture. We had a brief exchange like what travellers do at hostels and the next thing I knew, he and I were hiking on the hills behind the medina. I was going to explore the medina, the blue of the Blue Pearl but I thought I could do that the next day. As much as I loved hiking, I did not plan for hiking in any part of this trip and therefore, did not have proper footwear. Much like the very first time I ever hiked in my life, where I went on an impromptu hike in white and red Adidas Stan Smiths sans socks on a hot humid summer day in Japan (read: ew), this time I had thin ankle socks and low top Converse Chucks.
The hike was easy enough ascending, with children alongside us going home from school. They smiled, laughed, said hola and asked us for money or gifts. I wasn't sure if they knew what asking for money or gift from random strangers really meant. They weren't particularly persistent so I thought maybe it was part of the greeting package. We came to a little place called Cafe Panorama and sat down for a quick rest, appreciation of the view and our surrounding, and delicious Moroccan mint teas. We saw goats and sheep, roosters, hens and chicks (the whole family), horses and donkeys. M gave me a leaf that smelled pleasantly fragrant. Faint but strong, if that even made sense. It smelled like fresh lemon but sweeter. I decided to keep the leaf after taking a selfie with it on my upper lip like a moustache. We kept going and eventually went inside a farmer's house for a quick cup of (more) tea and a "cigarette". *wink* When we left, we saw a shepherd with a flock of sheep and I immediately chased after them for a photo opp. As soon as the shepherd saw me taking photos, he ran toward me and asked me for money. Sigh.
It's not called Moroccan mint tea for nothing. It just doesn't taste the same when you're not in Morocco. Is it the glass? The tea pot? The water? The sugar? The mint? The feeling???
On our way back, we decided to descend down a different route. Bad idea. For me anyway. The route looked legit enough at the beginning, but soon after, there was no longer obvious routes to be found. We went through tall, dry grass and I was constantly poked and stabbed by sharp tan and yellow blades. Fallen twigs and pebbles were also ganging up on me. There were sections so steep I feared slipping. For a hike lover, I always found it embarrassingly ridiculous how much of a scaredy cat I was when it came to downward slopes. M helped me a few times by holding my hand. But with big girl pants came big girl responsibilities. I wanted to do it myself, dammit. Finally, the revolt happened. After several near falls, I finally slipped, slid and landed in a giant pool of pebbles and what felt like tiny needles. And of course to save myself, I used my hands to break my fall. Luckily my weak wrists were ok but my palms were covered in these tiny daggers made by Mother Nature. Argh. My palms were red, itchy, painful and burning all at the same time. The pain was dull but excruciating because the itchy sensation was coming from the inside where I could not scratch or alleviate in anyway. My poor companion had to endure my girliness, clumsiness and my feebleness. He picked up a handful of fine, grey sand, poured it into my hands, and gestured for me to rub my hands together with the sand. Wa-aaaa? Adding oil to the flame, aren't we. But I gave it a try and hamdoulilah, I felt better! What is this magic? He smiled and told me to try it again. I grabbed more sand and rubbed my hands together once more. The friction seemed to have removed some of the little spikes that were stuck in my palms which caused the burning pain. I did that one more time and felt so much better already but I still had some of the pain. Thinking it would eventually go away and I needed to focus on getting back before it got dark, I told M I was ok to continue. We kept going. Out of nowhere, this old Moroccan man in a djellaba sped by us, skillfully running down the slope like a mountain goat. I watched in awe as my jaw dropped. M thought that was a good sign, because it meant we were going the right way. All I could think was, holy shit. After about another hour of walking, we made it down! We didn't really know where we were, though. We were at some abandoned half built/half demolished foundation of an apartment. Whatever it was, it surely didn't look like the beginning or the end of a hike trail. We climbed over short walls and down destructed steps. Finally, we were back in town. And we were tired and hungry. M brought me to this local eatery that he found a couple of days ago and we had delicious harira. It was hot, Moroccany and comforting. It was a tasty thick soup with chickpeas, egg, some vegetables and probably chicken (I was still eating meat at the time so I didn't pay extra attention). After this quick dinner, we walked around while M shopped for bread, cheese, eggs and olives.
When we got back to the hostel, we met O, son of the hostel owner, and another traveller, B, some finance big wig from New Jersey. B quit his job in the states to travel and make music. He was travelling around the world and making contacts with local musicians to collaborate on a music project he was working on. How cool is that. We all started chatting and I can't remember how but, all three men started helping me look for those little tiny spikes still stuck in my palms. *insert half-embarrassed smiley* A few other big guys - friends of the hostel owner's son - showed up at the hostel as this was going on and they joined in on the rescue mission. It was a pretty funny sight. Alas, no one could find anything and I had to convince myself that I wouldn't develop some sort of infection overnight and die (I am not a hypochondriac I swear). I was told my body would reject those foreign objects in the following day or two because that was how our bodies protect ourselves.
The following morning, M, B and I had breakfast together. It was quite a spread. We had bread, cheese, olives, watermelon, dried figs. I actually don't recall what I contributed, if I contributed. I hope I did. What a cheap bastard if I didn't! B was lacto-vegan and was drinking his protein shake. He asked if we wanted to try. I was curious and had a sip. Oh, my, gad. What is this disgusting gritty sandy chocolate shake wannabe??? Gaaaaad. Must wash this mud down with some olive or cheese (fun fact: fast forwarding to now. Since I stopped eating meat and started doing more weight training the beginning of this year, I started, ironically, drinking protein shakes regularly myself). After this feast of a breakfast, we left the hostel to look for a way to get to Talassemtane National Park - I actually didn't know where we went until I began writing this story and going through old photos, and found a photo of the park map. *chuckles* This day was supposed to be the day I would spend exploring the medina, take a crapload of photos of blue buildings, cats in front of blue buildings, people in front of blue buildings, colourful flower pots in front of blue buildings. I mean, that was my sole reason to come to Chaouen, to see the Blue Pearl. To take all those obligatory, mandatory, compulsory blue Chefchaouen photos. I was torn between going with the guys or staying behind. But I ended up going with them because fuck it, I could always come back again and see the same buildings, the same medina that had been here for hundreds of years. How often do you meet people you want to hang out and explore with? And this is a huge reason why I love travelling. You meet people, you connect and you make friends. You may just enjoy chatting and hanging out at the hostel. Or you may go out together and dance the night away. Or you may do daytrips together. And some, you change your itinerary for. Maybe that's why I refuse to have fixed itineraries. When I travel, I roam, I wander, and I get lost. And maybe because deep down inside, I know I need to be ready at a moment's notice to do whatever, go wherever, with whomever.
After negotiating with a not-totally-pleasant grand taxi driver and a 45 minute taxi ride, we were brought to the outside of the Talassemtane National Park. The taxi driver told us to be back for pick-up at precisely 18:30. There were vendors selling straw hats with colourful pompoms around the brim, keychains with mini straw hats with colourful pompoms around the brim, beaded bracelets, scarves, one pair of fake Adidas shorts (but why?!), and baseball caps. There were locals bargaining to be your trek guides. There were visitors from other Moroccan cities as well as hikers from other countries. I'm sure it could have been busier. The weather was not the best that day. It was cloudy, and fog and rain were expected later in the day. Knowing the hike would take 4.5 - 6 hours and we only had 5 hours to complete it, to and fro the Cascades du Oued El Kelaa, we took off after a quick coffee. The hike was HARD. I don't know if it was because I wasn't prepared (hello Converse and jeans), I was tired and brewing some major illness (it was four days before I got super sick for almost a month) or I was just a frail weakling. It started nice and easy, and flat, with miniature dams, empty restaurants and groups of white plastic chairs along the way. We saw people setting up stations for BBQs, cooking tajines or just picnicking. We saw vendors with cold drinks and snacks. The further we went, the fewer of these. Suddenly, we came to our first obstacle: a river ran through it. Question: how does one get across yo? Answer: walk on the tree trunk spanned across both sides of the river. I'm sorry. Do I look like I would fare well on a balance beam? I can't even walk on a painted strip on the floor without stepping out of bound, sober. What is this. With no traction on my soles, I tried my best inching my way across. Most importantly, I tried my best not squealing too loudly at too high pitch of a voice. It was one of those fun challenges where you want to do it but you don't but you do but you don't and when you do do it, you want to die but it's too late to turn back. Yeah. That. Somehow, stage one was complete. I guess it wasn't as much an issue of walking across a beam over a river as sliding off and getting soaked. Walking in wet shoes is the worst. I've hiked in wet muddy shoes before and it was cold, and unpleasant. Did I mention cold? Ee-eek. Shudders. Oh also, disgusting. Wet feet makes for bad temper in my book. Is that why some people had plastic aqua shoe covers over their shoes? Smart. And, who designed this trail?
The two people casually walking in the background either seem out of place or just completely and successfully argued against the struggle I anguished over.
After walking up a steeper path for sometime, we were met by a second obstacle: same idea, but instead of a tree trunk, there were giant round and smooth rocks, some wet and slippery, some dry but bound to get wet from someone's shoes. Che palle! *insert Italian swearing hand gesture* Stage two complete, with the help of people with plastic aqua shoe covers, and off we went until we hit obstacle number three, or four, or ten? I lost count. Again, same idea, same river?! This time was more like Super Mario Brothers. Instead of smooth boulders, this time we had to climb enormous square cement steps. That was actually fun and not too daunting, except for jumping over the gaps between each step, unlike the next obstacle. This next one, I would seriously not have been able to conquer without outside help. Steep slope, my nemesis! It was like the steep hill of lava rocks in Mt. Etna (my most difficult hike ever) all over again where I would take one step up and fall back two steps. But this time, it was wet mud. Eek. Two young Moroccan men who were ahead of me saw struggling ol' me and each took one of my hands and pulled me up as they sang in jolly good spirit on their way to the waterfall. Choukran, good fellas. Choukran.
We trekked a little bit more after that and finally, FINALLY, we made it to our destination. The waterfall was tall. Not crazy gushing flows one would expect but it was beautiful, nonetheless, like a long thin veil draping down giant jagged rocks and luscious greenery. At the base, there was a pool of water where a few young men were swimming, diving in, soaking or just posing for Instagram. First thing I had to do was some serious feminine business. It was that time of the month and I needed to, refresh, in the coyest way to put it. I asked B if he could help me by covering me with his beach towel while I changed my feminine hygiene product. Without hesitation or showing any sign of disgust, B was all ready to help out. Not flinching after hearing the P word (ahem, period) or the T word (cough cough, tampon)? I knew he was a keeper. (or maybe he didn't fully understand what he was asked of then and now that he is reading this, he is going eeeeww. In that case, sorry, bruh!) After refreshing, I had another favour for the boys. I brought a dress with me, wanting to take a photo in front of the waterfall. I had one taken on a mountain top in Vancouver, one in the Sahara desert, I wanted to add to the series with a waterfall shot. And so I did. B wanted to jump in and take a swim in the cold water. And off he went, that brave soul! Poor M was chatting with another hiker, smoking and watching us North Americans do our stupid tourist thang. After all the kerfuffle, we finally sat down to enjoy the view. Mission first, right? As I looked around, I saw a gentle, sweet looking dog with an extremely deep and large cut on his hind leg. It was so deep you could see muscle tissues and bone. The cut looked fresh, too. I was sad. Sad to see him hurt, and sad knowing there was nothing I could do. It wasn't a hungry dog that I could temporarily help by giving some food. This dog was injured, needed medical attention and I could not do anything. How did he get up here? Was he a stray? And how would he get down? How would he heal? Would he develop an infection and die? That was not some stupid tiny spikes stuck in the palm of a paranoid human being. That was a major open wound. Would it heal naturally? Would he survive? Or would he die in pain? With no one caring about him? Oh the poor dog!! All these questions with no answer and ahhhh, sadness washed over me. I just stared at him, misty eyed, heartbroken and feeling utterly useless, until M and B said it was time to go.
I kept thinking about the dog on the way down, but my thoughts were also consistently interrupted by the difficulty of the hike. Going down the muddy slope wasn't as hard as climbing up but it still required a lot of concentration to not tumble down. I remember M helping everyone around him to get over all the river crossing obstacles because he didn't mind stepping into the water. He would go right into the middle of the river, then literally lend his hand to assist people - children, women and men - over. On the bigger rocks, he would stay at one spot and again, help us balance by using his arms like a railing. What a kind person! I started calling him Master M, as in kungfu master. Master M would be the first person arriving at a challenging spot, help everyone cross, then continue and bloody hell, be the first person at the next obstacle again. Like a swift ninja, he would bounce and glide around easy trails and tough terrains like a dragonfly on water.
The fog started to set, making it difficult to see the amazing mountains and trees across from where we were, but it also made for some mystic ambience. Soon after the fog, it started raining. It was also getting close to our 18:30 pick-up time and we still had a bit of way to go. I started to get uneasy. I hate being late, even for African time. Alas, we could only go so fast. The rain didn't make it easier for us to get down faster than we already could. However in the midst of all this, we managed to take a moment to briefly observe a couple of monkeys eagle-eyed Master M spotted. My contact lenses did not have astigmatism so my blind eyes had difficulty locating them, despite squinting my eyes with all my might. But when I did, it was such a thrilling feeling to see wildlife when you least expected it. After that, Master M continued on his way, getting to the taxi first. B and I stopped to take a couple of 'raindrops, sweat or tears?' selfies before we ran toward the taxi. Being 15 minutes late, we got an earful from our taxi driver in words I could hardly understand.
I loved the scenery on our taxi ride. In fact, that was the biggest surprise for me during this trip. I thought Morocco was all rocks and sand. #duh #ignoramus The landscape across Morocco was so diverse it was incredible. In a 30 minute bus or train ride, you could see green hills, mountains, luscious fields, dry patches, lakes, rivers, trees, bushes, flowers, cacti, farmland, abandoned frames of houses, broken carts. Simply beautiful and breathtaking, sometimes poetically desolate. Drive-by shooting used up a lot of phone battery.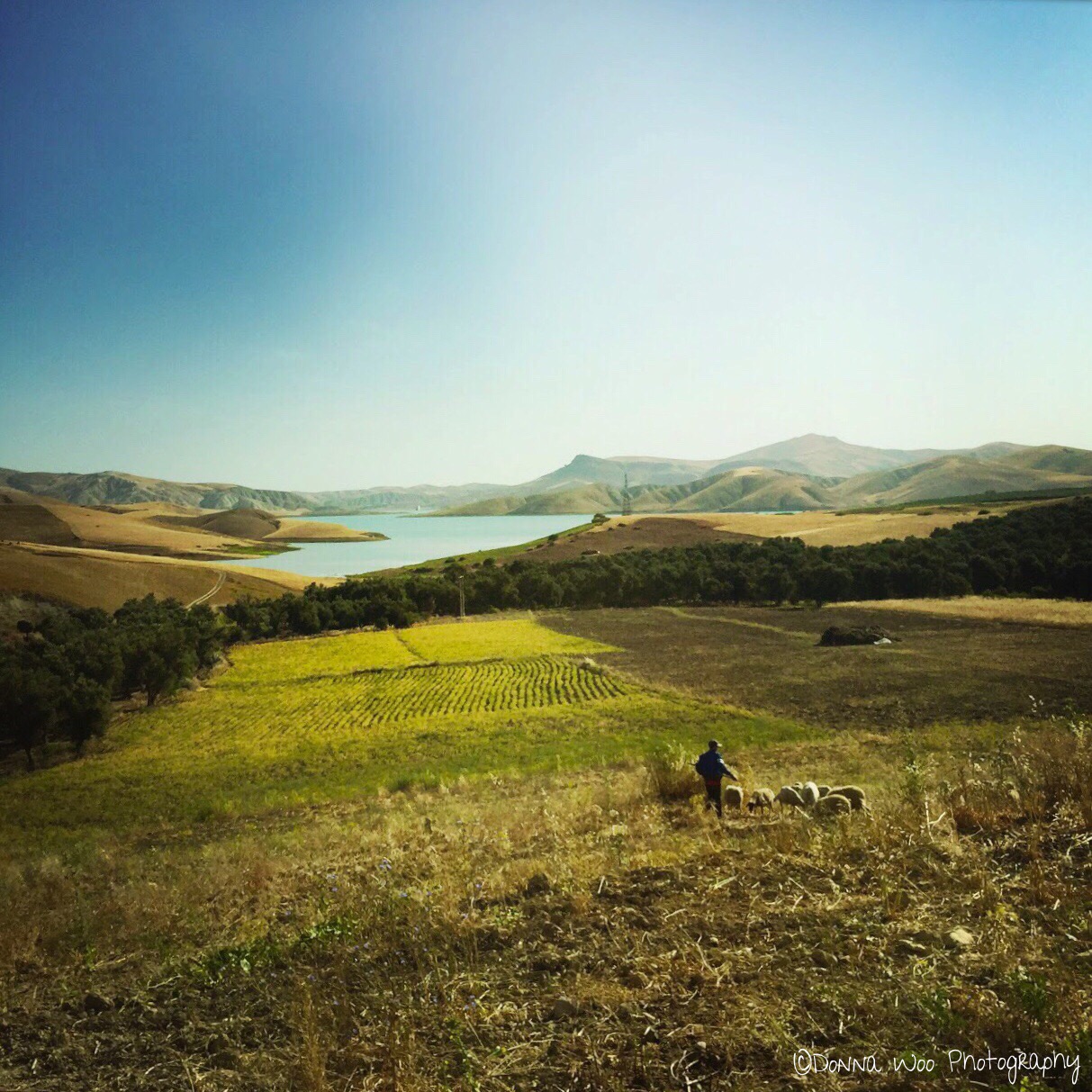 Photograph taken on the bus between Fes and Chefchaouen, possibly in Meknès.
When we got back to Chaouen, M, B and I walked around to find dinner, like what modern hunters would do. Finally, we found a little Italian restaurant with a Trip Advisor ticket on the door and we entered. We sat down, looked at the menu while waiting for a server. We heard nothing but French and English in the restaurant, with people eating pasta, pizza and salad. We suddenly looked at each other, and unanimously agreed to get up and go. What were we doing? We were in Chefchaouen, Morocco. We were in Africa. Why were we eating pasta? We walked out and walked around for a more authentic Moroccan option. We ended up going back to the place Master M took me to the day before.
Bah! They were out of harira! Master M stepped behind the counter, went inside the kitchen as if he were staff, and used his limited Arabic to chat with the people there. He was asking what else we could eat and he wanted to see what was in all the pots and pans. It was so fascinating and entertaining to watch. Even though there was a lack of words and grammar, the will Master M had to communicate made it all possible. He learnt new words and phrases. He asked the eatery staff to repeat and enunciate for him to hear the sounds properly, and he would jot them down in his little notebook. As a language learner myself, I absolutely admired and wish I had his ability and gut to learn like that. B and I watched with huge smiles and disbelief as Master M examined every inch of the kitchen, checking out stewed white beans in a large pot, leftover boiled lentils at the bottom of another, uncooked lentils in a jar, dry beans in a sack. While Master M was jotting down 'lentil' and 'white bean' in Arabic in his notebook, I fixed my eyes on this row of beer steins filled with something minty green, and topped with cherries, sliced kiwi and whipped cream. I didn't know what that was but I wanted it. I thought maybe it was ice-cream or something. I didn't care. I wanted it. Just like in any restaurant, I looked at the dessert menu first.
We had white beans. I was hesitant at first because I wasn't a huge fan of beans but I tried it and it was so, so good. So simple, flavourful and delicious. When we finished, Master M went back to the counter and ordered a kefta tajine - meatballs with tomato sauce, topped with cheese - whereas I got that minty green goodness I had my eyes on 10 minutes ago. After eating the sweet juicy cherries and icky kiwi - ok, they were fine. I just don't like kiwis - on top, I took a spoonful of the green stuff and oh, my, goodness. What is this sublime, divine, glorious scrumdiddliness. I could not stop eating. The green mixture was smooth, creamy with a refreshing taste and a hint of nutty flavour. I couldn't quite tell what it was but I suspected it to be honeydew or cantaloupe. The creamy texture might have been avocado. Or even milk or cream. Whatever it was, I tried replicating it after I came back to Vancouver but I was never able to get the right proportion of fruits, and the mixture would separate soon after it was blended together, unlike this thick green delicious monster of a fruitshake. More the reason to go back to Chaouen one day! As I dug in further with the spoon, I discovered the peanut butter on the sides of the stein. The combination of the peanut butter and the smoothie was out of this world. That smoothie alone could be one of the highlights of all my travels.
Here it is, feast your eyes on the smoothie I could not shut up about.
Shortly before midnight, Master M, B who brought his laptop, bass guitar and equipment, and I followed O to another hostel. There, we met up with MH, a good friend of O's, who started jamming on his guitar with B on his bass. B recorded a few tracks while we listened, with tea and biscuits. It was quite a cool and unique experience. I never would have imagined this to be part of my Moroccan trip, or any trip. I also visited a kitty cat mama and her newborn litter at the hostel. So adorable! Any pleasant cat experience is always a highlight for me. #proudcrazycatlady
Around 01:45, we started to make our way back to our hostel. I dropped my earbuds somewhere along the way and didn't realize it until about 15, 20 metres away. O, being the gentleman that he was, ran back to look for them for me. What a sweetheart. This also proved that if something was meant to be yours, it would. And if you were destined to lose something, you would. A couple of days after losing but finding these earbuds, I lost them forever in Paris. I was taking the pillow case and sheet off my bed in my hostel without realizing my earbuds were still on the bed, and chucked the pile into the hamper. I didn't know I didn't have my earbuds until I got to the airport. Oh swell. It was only the second time I lost something due to my own fault; not too shabby for 10.5 months of travelling.
The following morning, B and I got up early to meet with MH. He was going to give us a ride to the bus station for our bus to Rabat. We went to our meeting point and waited, and waited, and waited. It was nearing our bus departure time and MH hadn't shown up. We were thinking to take a taxi if we didn't see MH in the next few minutes. Just in the nick of time, MH pulled up. He apologized profusely and explained that he was late because he was getting us breakfast! He knew I couldn't shut up about that avocado melon smoothie - I really should get some sort of commission from that eatery for doing all this promotion - he wanted to get it for us but he couldn't find it that early. So thoughtful! MH handed us each a delicious pastry and an avocado smoothie. The pastry was round, like a soft palmier with custard between danish-like layers, and bits of peanut and pistachio on top. It was so perfect I could not describe. The avocado smoothie wasn't exactly like the one I had the night before but it was as delectable as delectable could be.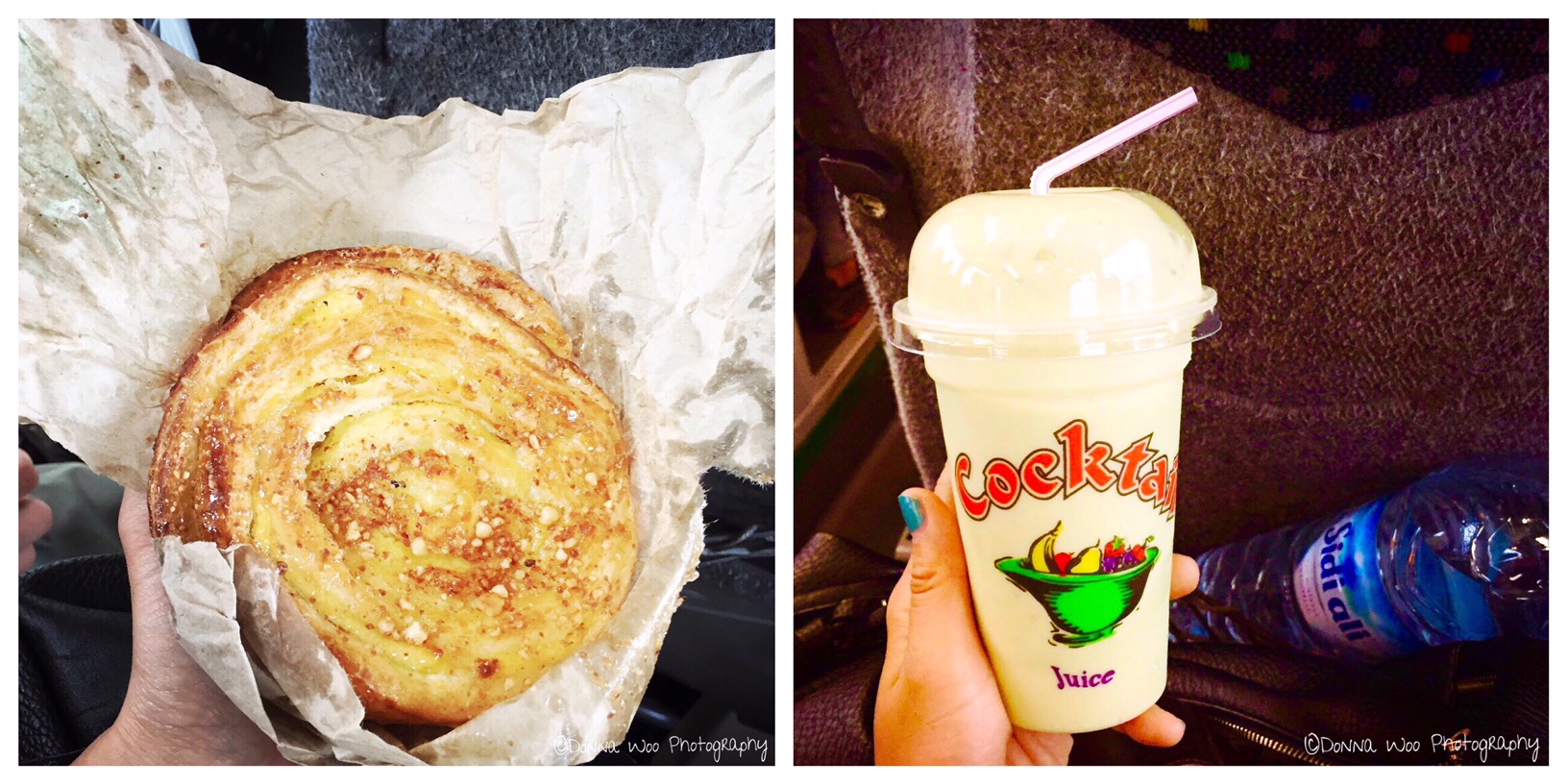 B wasn't a little piggie like me so he gave me his pastry. Ooh or maybe because it had egg in it. Don't worry, I didn't eat them back to back. There might have been a good 15 minutes in between!
I was originally going to stay in Chaouen for one more day before I made my way to Rabat to fly back to Canada but I changed my itinerary to return to Rabat one day earlier to hang out with someone I met there on my first day in Morocco at the beginning of my trip. B had a day between Chaouen and a meeting in Casablanca so he thought to come to Rabat with me since Casa was only an hour from Rabat. On our four hour plus bus ride, B and I chatted about travelling, love, life and everything worth talking about, and we bonded. I am a firm believer of destiny and the universe making plans for us. B later realized he got his dates wrong for his meeting in Casa. If he hadn't mixed up the dates, he wouldn't have come to Rabat with me, and we wouldn't have had the time to connect. It has now been more than two and a half years and B is still like a big brother to me (although I am older, less mature nonetheless). *insert heart emoji*
Alas, my right shoe was defeated by the mud, river and rain of Chefchaouen, but I had the intention of throwing away these shoes at the end of this Morocco trip anyway. These were my very first pair of Converse Chuck Taylors and had cracks in the toe cap and holes in the bottom. Although there had been 12 other pairs of Chucks after these, it was still hard to part from them. I loved my little fuzzy flannel Chucks!
This story is only a small, but significant, part of my two incredible weeks in Morocco. Not only did the many stories, people and places in these two weeks changed my view of the country (not just rocks and sand!) but I think if Morocco had a soul, I feel like ours met and connected. "Not all those who wander are lost." - J.R.R. Tolkien I wander because wanderlust. Because fernweh. I wander because my senses want to experience the world, my mind wants to know the unknown, my heart wants to feel the moments, and my energy wants to connect. I wandered into Morocco because Air France had a ticket sale. What I didn't know was that, my soul wandered into a place, a realm, a space that it had been searching for without even knowing it was looking for it.